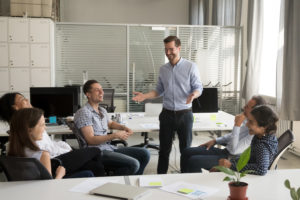 IT Management is critical to nearly every organization in every industry—leading to a growing demand for talented professionals who excel in technical skills and in business. This UW master's degree program combines the worlds of technology and business strategy through a multidisciplinary curriculum aimed to prepare you to become an IT leader in any industry.
13 Courses. 37 Credits. Online. Respected.
The online information management technology degree program incorporates real-world applications and practices relevant to the current field of IT. As a graduate of the program you'll gain important competencies in cloud computing, enterprise security, leadership, finance, project management, data science, and much more.
Online Learning at UW
Because the program is entirely online, you will study and complete coursework on your own timeline, wherever you have an internet connection. Courses are taught by diverse and distinguished faculty from across the University of Wisconsin System and have no set meeting times. You will never need to come to campus, although you will have access to your home campus libraries and career resources.
As part of a UW online degree program, you will have ready access to success coaches and faculty by phone and email, and you may take advantage of on-campus resources such as career assistance and libraries.
Eligibility
Admission requirements for the MS in IT Management degree program include:
Bachelor's degree with a 3.0 undergraduate GPA
Completed coursework with a "C" or better – or demonstrate sufficient knowledge – in programming (object oriented, modern language), database, and computer networking.  Program academic directors have the option to waive a prerequisite based, in part, on student work experience and background.  Technical certifications such as Oracle, Microsoft, IBM, AWS, Cisco or professional experience may be used in lieu of formal coursework to demonstrate proficiency at the discretion of the academic advisor at the student's home campus.
GRE or GMAT aptitude tests are not required. You must maintain an overall cumulative GPA of 3.0 or better to graduate.
Accreditation
The UW Master of Science in Information Technology Management degree program is approved by the University of Wisconsin Board of Regents and is accredited by the Higher Learning Commission.
A Collaboration between University of Wisconsin Campuses
The UW Master's of Science in IT Management is a collaboration of the University of Wisconsin Extended Campus and five University of Wisconsin institutions: UW-La Crosse, UW-Oshkosh, UW-Parkside, UW-Stevens Point, and UW-Superior, bringing you the best and brightest IT instructors from across the UW System.
Although you will take courses taught by faculty from all five partner campuses and complete your program entirely online, you will be asked to apply to a "home" campus. Your home campus is the institution from which you will receive financial aid (if you qualify), advising, career services, and ultimately, your diploma. You will receive the same respected University of Wisconsin diploma as on-campus students.
About UW Extended Campus
Fulfilling the promise of "The Wisconsin Idea"—the philosophy that University of Wisconsin education and research initiatives should benefit all the people of the state—UW Extended Campus provides statewide access to university resources and research so Wisconsin residents can learn, grow, and succeed at all stages of life. UW Extended Campus coordinates University of Wisconsin continuing education programs at all 13 campuses. In addition to the Master of Science in Information Technology Management, UW Extended Campus also offers these related online degree programs:
UW Extended Campus also offers:
Recognized University of Wisconsin Degree
Graduates of our online programs earn the very same University of Wisconsin degrees as students who attend classes on campus. As a graduate, you can feel proud and confident knowing that your credential is recognized the world over and respected by employers.