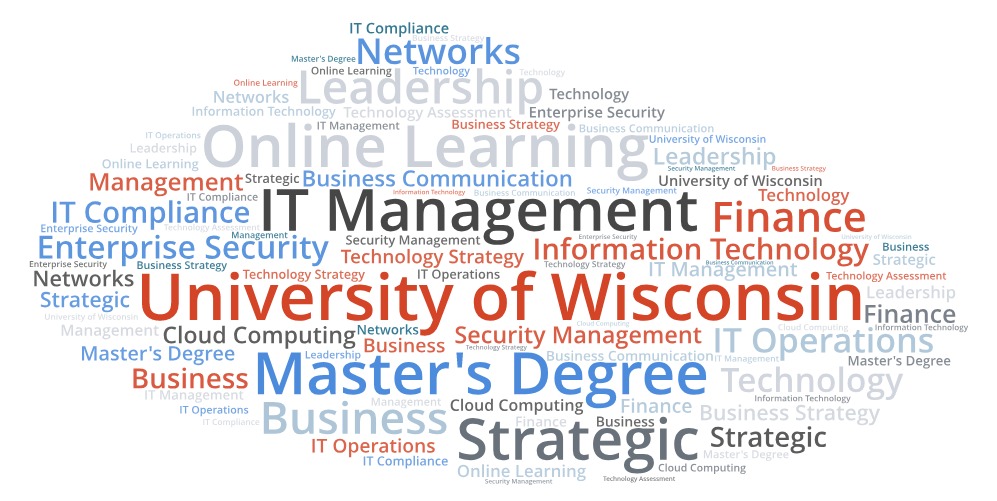 The University of Wisconsin online Master of Science in Information Technology Management prepares you to be an IT leader across industries through comprehensive, multidisciplinary coursework in business fundamentals, leadership and technology. Upon completion of your master's degree, you will possess the following skills and abilities:
You will be able to:
Interpret and create pro forma financial statements

Perform financial analysis for IT strategic planning purposes including portfolio management

Develop and manage technology budgets
You will be able to:
Plan and manage technology projects

Develop organizational leadership skills relevant for IT management

Lead IT personnel to meet organizational needs
You will be able to:
Demonstrate ability to effectively conduct crucial conversations

Demonstrate ability to effectively communicate with stakeholders across the organization

Demonstrate professional behavioral skills accounting for ethics, diversity and cultural sensitivity
You will be able to:
Apply ethical frameworks to analyze problems and evaluate alternative solutions

Create and manage technology policies and procedures for an organization with an understanding of the regulatory environment

Interpret and manage IT governance policies

Design appropriate security architecture with an understanding of the technology
You will be able to:
Evaluate the impact of emerging technologies

Analyze data to address organizational challenges and create competitive advantages

Analyze requirements and propose technical solutions
You will be able to:
Develop appropriate data management technologies

Create and deploy enterprise solutions in support of organizational goals

Plan and implement projects related to infrastructure, security, software development or data analysis.
Enrollment advisers are available Monday through Thursday 8 a.m. to 7:30 p.m., Friday 8 a.m. to 4:30 p.m. CT, or by appointment.
Call: 1-877-895-3276
Email: learn@uwex.edu